evanagee.com 20th anniversary edition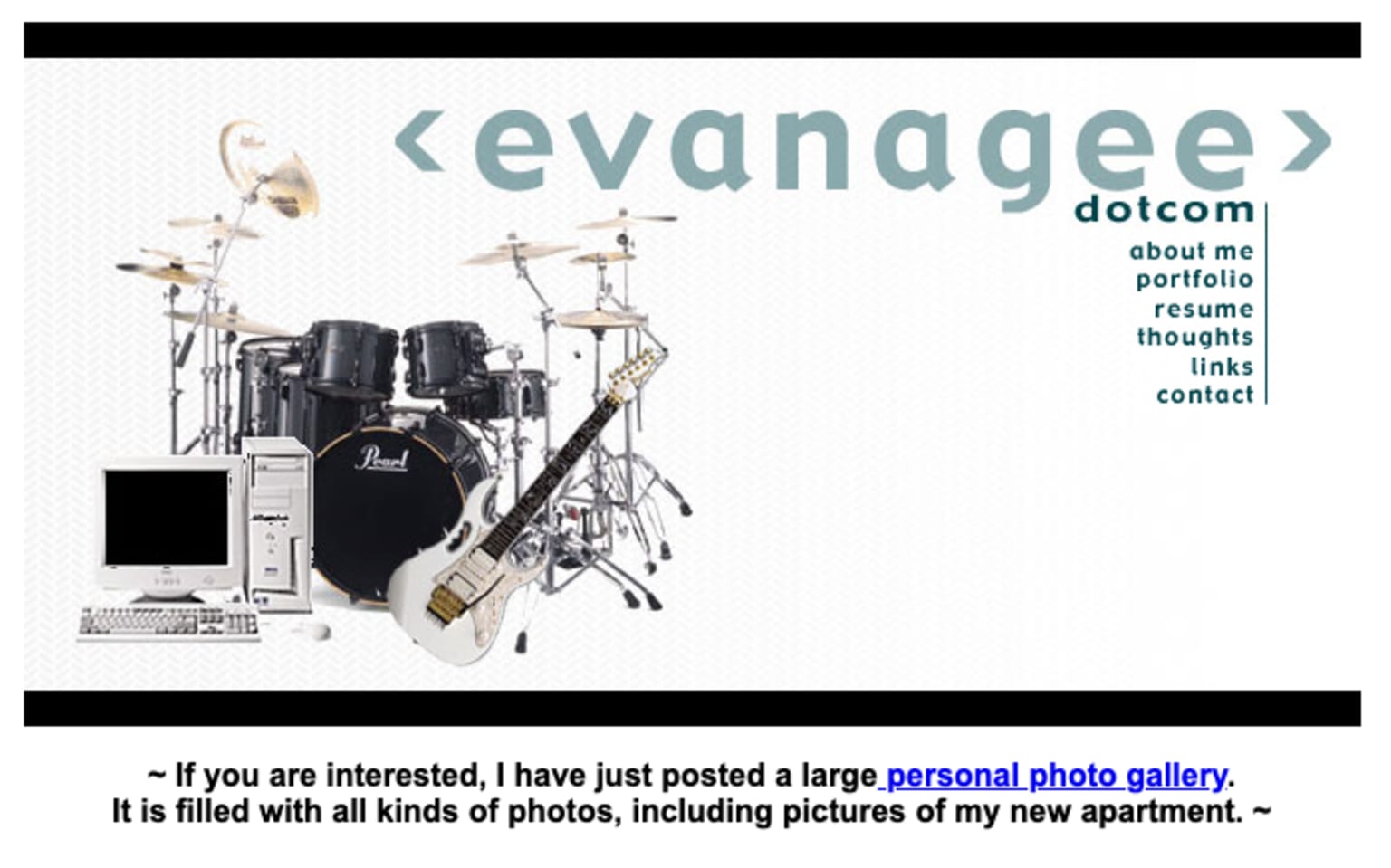 I started this site 20 years ago. It has been my companion through most of my adult life. To celebrate its longevity I've completely redeveloped it from scratch with a new design, some updated content a whole new blog experience and a brand new photos section that I'm quite proud of.
It has been with me throughout many different seasons and changes and while it has looked different over the years this new look is my favorite.
The idea of a personal website has changed a lot since 2001 when I created the first iteration. For me this site has always been about me sharing pieces of myself with whoever is interested. Admittedly some of the blog posts can be pretentious or boring, which is why I left it alone for many years. But recently, as I started looking through some of the older content in the blog, my heart towards this site and its purpose shifted. This is for me. If someone happens along and finds something interesting, awesome, but that's not my main goal.
I'm a web developer who's obsessed with web development. My scrapbook reflects my tools of choice. So do I NEED a headless WordPress site built in React? No. But did I have an absolute blast building it? You bet I did! During this course of rebuilding I dove into previously unknown technologies like Vite and react-query, got very familiar with the WordPress REST API and finally achieved a design that I'm 100% happy with (with a little help from a free starter template).
But now I finally have all of my blog and photos in once place in a cohesive experience and the ways I can intermingle that content are going to be very interesting.
I also did something I've been putting off for a long time, I painstakingly went through all of my old blog posts updating images, video embeds and the like so they work properly in this post-Flash world. It has definitely given new life to this place!
One of the things that I loved most about browsing through the various versions of this site from the last 20 years is how much content is still here. I feel like it is the best place for me to look for memories that I have long since forgotten, and that's what's pushing me ahead and has gotten me excited about growing it over time.
I have a few plans for the site, more web-dev specific blog posts, ways for users to interact with content more and I want to gather up all of the various videos I've created over the years and make them easily accessible. I'd also like to get some of my music online. As I'm also getting old AF I also find myself wanting to preserve and catalog the various projects that I've worked on over the years. I would love to be able to see at least screenshots of projects through the years, that's a lot of work though…
Once upon a time I also had this Items of Interest section that was a way to organize things that didn't quite fit into the blog, almost like featured stories, I'd like to find a way to bring that back as well. In general as I looked through old versions of the site I found that they better captured the intent than more recent versions. "Photo of the day" is one of my favorites that I've sort of resurrected via the large background image.
So, if you're still reading, thank you! This app means a lot to me and I hope it shows. Happy browsing!
Some imagery provided by Unsplash.