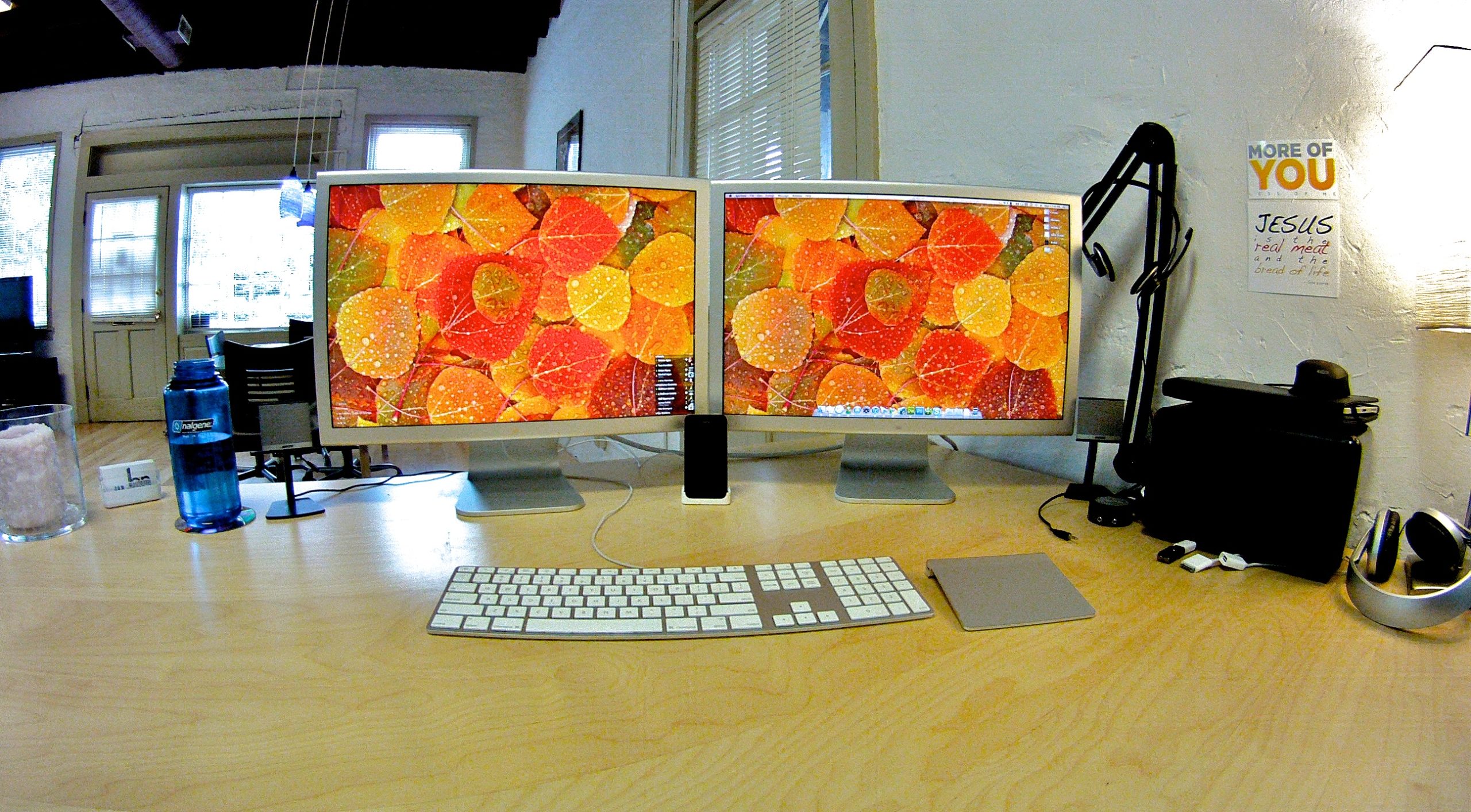 I took a few minutes to get my desk all cleaned up and organized today. After all, if I'm going to be spending so much time behind it why not make it beautiful?
It's been far too long since I've written anything. Part of the reason is that I just haven't had a lot I felt like taking about; but the main reason is that I've been experiencing the busiest period of my life. No joke.
Things have been incredibly exciting and stressful for going on 4 months now. It's all good, but it can't go on like this forever. It has been my routine for the last month or so to work until 1 or 2am at least 3 nights a week. Don't get me wrong, I do my best work at night, but man cannot live on Starbucks Double Shots alone. Thankfully my amazing wife hasn't complained at all, being well aware of the circumstances and my addiction to highly-satisfying work.
Agee Design has been very busy and on top of that my primary client, with whom I have a full-time contract, has been keeping me very busy as well. Lots of exciting stuff going on! On top of that I've been working on bringing in enough work to keep my first employee/brother Mitchell busy creating amazingly beautiful motion graphics. Again, it's all good, but it's busy. If you haven't been lately I would encourage you to check out Agee Design and see what we've been up to lately. We're producing some amazing work these days and I couldn't be more excited about the road ahead.
On top of everything with work I also became a BSF discussion leader this year, which I'm loving SO much. The amazing truth that has been coming out of this year's study of Isaiah has been life-changing and is truly ministering to my heart on a daily basis. This week I have spring break so I get to sleep in on Saturday and may have a free night next Monday. Just a few more weeks left and we have a summer break, something I'm simultaneously excited about and dreading…
More to come later.
Some imagery provided by Unsplash.